I took Katty on a surprise trip to Puerto Vallarta last weekend – it was incredible! Though coming back to Chicago's cold weather has made it seem like it was long ago, seeing the pictures makes me feel the warmth all over again!
The original intention was to totally surprise her – I was going to contact her boss to see if she could take the day off, pack her bags etc… after some consultation, I was told it was a really bad idea! In fact, nobody thought it was a good idea! So I ended up telling her that I was going to a conference in San Diego and that I had a miles ticket for her to join me. Ultimately I decided to tell her a week ahead of time so that she could enjoy the week of anticipation and preparation! It was a good call…
Puerto Vallarta itself was fantastic! We both very much enjoyed the little town and everything it had to offer. The first night we spent a few hours on the "Malecon" (boardwalk) just exploring and taking in the sights and sounds. We ended up finding a place that had 50 peso 22oz margaritas, and stayed there for quite a while watching the sun set over the bay while mariachi bands and all other types of performers made there way by. We then headed to Joe Jack's Fish Shack for dinner. We started off with the best Mojitos we have ever had – the strawberry Mojito is especially delish! Then moved onto the Tuna Poke and Portabella Quesadilla appetizers – INCREDIBLE. It was so delicious that we had extremely high expectations for the whole red snapper, the owners suggestion. The Snapper was good, but didn't quite meet our expectations. Still way better than most seafood in Chicago! We ended up catching a local bus back to the resort – which is an experience in and of itself!
The following day we just chilled out at the beach and the pool (with island bar, of course!) – gotta love swimming up to the bar at 11am and ordering a tropical beverage in 80F temps! It was fantastic. I, of course, got roasted – this is while trying to take extreme care of my skin. I also finished up "The Kite Runner" while on the trip – incredible read, finished it in two days! At ~4pm we decided to head back to the room to get ready for hitting the town again.
Our final night in Puerto Vallarta we went directly to La Palapa for dinner. Going on TripAdvisor's recommendations as we had the night before. We were not disappointed! Dinner was a bit pricier than other locations – but it was well worth it. The Lobster Taco appetizer was to die for!! Dinner was nothing short of amazing. Being directly on the Malecon overlooking the beach – and the wedding that happened right in front of us – was an incredible experience. We took our leisure and I think finally finished up, with Lava Chocolate Cake might I add, in about 3 hours. We strolled down the Malecon to see a majority of locals with a smattering of tourists enjoying the gorgeous night. Unforgettable.
Its about time I cleaned this place up. Although I'm still not sure about how often I'm going to post, there is nothing like a clean slate to get motivated. Funny how its easier for me to clean house on-line than it is in real life! Perhaps I can use this as motivation to do the same at the office and at home… I'll let you know how it goes!
Yes, its been over a month. So much for posting more often in the New Year! (Happy New Year incidentally!) I returned from Ecuador on Jan 11th and I've been extraordinarily busy since I've been back. Spending so much time in front of the computer screen during the day, the last thing I want to look at while at home is the computer! The fact that many of my faithful readers are on Facebook now is also keeping me away from the blog. Is it worth keeping up the blog when most people are checking Facebook anyway? I guess it comes down to what you have time make time to update!
Otherwise things are going well. The adjustment from 65-70F weather to the sub-zero weather in Chicago is taking some time. Having three weeks off also made it difficult to get back into the groove at the 9-5, finding motivation has been especially difficult. I do have to say that after our new Commander in Chief's inaugural address I did feel impetus for this "new era of responsibility". As such, I've been trying to find new ways to keep myself on task and organized.
I stumbled upon Thinking Rock through a friends recommendation of another piece of software Things, which at the moment is Mac/iPhone only. Both are based on GTD "Getting Things Done" philosophy – something that I find works very well with my short attention span, and my propensity for having lots of ideas that fall through the cracks. There is a fair amount of a learning curve getting going on it – and you have to be religious about its use. But it keeps things in good order and really forces you to think in a productive way about everything on your mind! If anybody has experience with the Mac/iPhone "Things" app – let me know what you think. It would be really nice to have the data accessible while on the move. The only option I've found for Thinking Rock is not very intuitive, oh, and I no longer use a Windows Mobile device.
Yes – after 3 solid years of service from my trusty T-Mobile MDA, I've finally upgraded to the world of capacitive multi-touch screens and 320×480 pixel resolution!! An iPhone you say? Nope – an Android DP1. Merry x-mas to me!! Thank you Katty!! :)
Now if somebody could just port Thinkingrock to the Android OS… anybody? anybody??
This year´s holiday celebrations have taken me to Quito, Ecuador with Katty and her family. Although we have celebrated Christmas before outside of Chicago, this marks the first time I am away from my family. Thankfully, I feel like part of the family here in Quito! Their traditions are a bit different than that of our family. The big family dinner is late on Christmas eve and the presents are opened at or after midnight. This doesnt exactly jive with Papa Noel (Santa) coming down the chimney in the middle of the night, so the Niño Jesus (baby Jesus) is the one that brings the gifts. Though apparently this is starting to change as Papa Noel´s presence is greater every year. That being said, its quite bizzare to see Santa everywhere in his full red garb and hat when its almost 70 degrees out!! Its a bit hard for the Quiteños to understand why I miss the cold at Christmas time, but it has been an ever present factor in Christmas most of my life!! Thought when I left Chicago it was -16F without windchill! Can´t say I´m missing that too much. But from what I hear, it was 60 in Chicago yesterday! Maybe sending warm thoughts actually worked??
I´ve been going from one family function to another as Katty has a huge family here in Ecuador. Lunch and dinners with 20+ people seems to be the norm! Of course, I can´t get enough of it because it reminds me so much of my family in Spain. It has also been great to get to know everybody in her family that much better! Each of these mini reunions are filled with food, drinks, conversations and laughter, they are such a blast!! I´ll come back with tons of wonderful memory and a huge panza (gut)!! I can´t complain that Katty´s family has so many good cooks! Speaking of, I decided to bring a bit of our holiday traditions to Ecuador. I made the vegetable casserole that we always have this time of year along with some christmas cookies – both were a huge hit!! I´m not sure if they were more impressed with the food or the fact that a man cooked it! Getting the proper ingredients was a story in and of itself!
My first week (of three!) has been great thus far! With the New Year´s celebrations around the corner, as well as trips to Cuenca and the Amazon, I have much to look forward to! Merry Christmas and Happy Holidays to all!!
via xkcd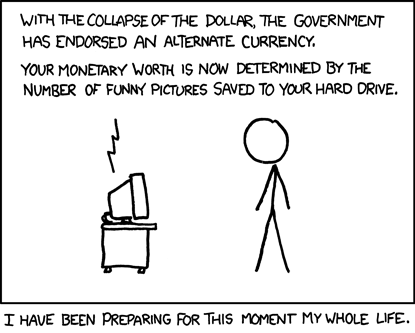 It is the first of the month – I've always felt that it brings with it an air of change. In this case the physical change was fairly obvious as Chicago had its first real snowfall of the season. As the snow swirls around, it gets me thinking – what other changes are stirring?
So much for live-blogging the election! I ended up crunching numbers most of the evening for ICIRR, by the time I dropped off the laptops at my office and headed back to the Cultural Center – I could hear the crowd EXPLODE into cheers and applause!! My heart immediately started pounding and I ran as fast as I could back to the Cultural Center. They had called the election!!! My family had all come to meet with us and as McCain delivered his acceptance speech (where was that McCain during the election?!) tears started to well up in my eyes. It was actually happening!! At 11pm the event ended, so we rushed back to my building to watch his speech and see Grant Park bursting at it's seams with people and energy! The noise was incredible – the energy palpable! We stayed on Michigan Ave until 1:30 in the morning, watching, absorbing and participating in the revelry!!
It has been too many years in the making – but this unprecedented change is exactly what this country needs! I was glued to NPR the following days and the national and international reactions gave me goosebumps! January can't come soon enough!
Below is the result of the data that I was crunching during the election for ICIRR.
Discover Simple, Private Sharing at
Drop.io
I'm crunching exit poll data for ICIRR currently at their election headquarters at the Chicago Cultural Center. LOTS of data!! Interesting stuff! I'll be sure to post their exit poll results when they are available!
You can see the people lining up on Columbus and Michigan Ave! Apparently, they have been lining up since Monday! I'm going to the Chicago Cultural Center to continue volunteering and then to party with Katty and her fellow ICIIR workers! I didn't sign up for the Obama rally on time – but I'll be going outside to take pictures. I also hope to do and "after" picture when the rally REALLY gets going!